Ein Hauch von Ewigkeit streifte mich. 1472 und 2014 verschwammen in eines. Davon will ich euch heute erzählen. In Zittau gibt es das Große Zittauer Fastentuch von 1472, das durch mehrere Wunder bis heute erhalten ist. Es zeigt in 90 Bildern Szenen aus der Bibel.

A breath of eternity touched me. 1472 and 2014 in a blur. Of this I want to tell.
In Zittau, there is the Great Lenten Vail of 1472, which is obtained by several miracles until today. It shows in 90 frames scenes from the Bible.

2011 startete die Künstlerin Anna Ansorge ein Projekt, bei dem ein neues Fastentuch entsteht. Das neue Tuch lehnt sich in den Maßen und Motiven an das alte an. Lokale Künstler sind eingeladen, sich daran zu beteiligen.
In 2011 the artist Anna Ansorge started a project in which a new Lenten Veil arises. The new Veil is based on the sizes and motives of the old. Local artists are invited to attend.

Der Maltermin im Juni dieses Jahres lag so günstig, dass ich endlich dabei sein konnte. Mein Wunschmotiv war noch frei: Jakobs Traum von der Himmelsleiter (Gen. 28,11-16).
Der Fotograf Tilo Schwalbe hat das Malen dokumentiert und so zeige ich euch nun, wie mein Motiv entstand.

Ich habe mich vom historischen Bild inspirieren lassen und eine zeitgemäße Interpretation angestrebt. Es war erhebend, sich mit dem alten Vorbild verbunden zu wissen und etwas Neues zu schaffen.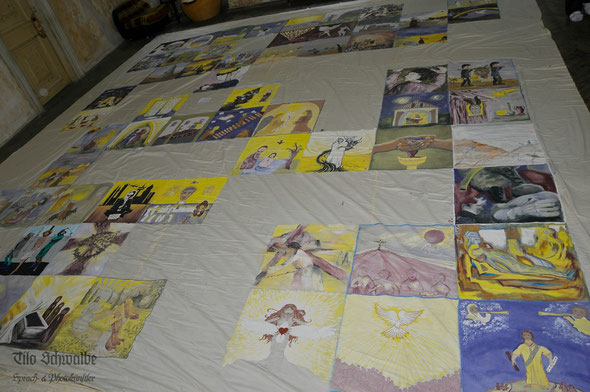 Eric lud zur Drawing Challenge zum Thema Zeit. Schaut hier nach, was die anderen Teilnehmer zeigen.

Vielen Dank für den Anstoß, um von diesem besonderen Projekt zu berichten.
Solche besonderen Momente warten ganz gewiss im neuen Jahr auf uns. Es gilt sie zu entdecken. Nehmen wir uns die Zeit dafür.
Eric invited to this Drawing Challenge with the theme time.  Be sure to take a look at all the other participants here.
Thanks for this push to talk about this particular Project.
In the new year such special moments waiting certainly upon us. There they want to be discovered. Let us take the time.
Vielen Dank fürs Vorbeischauen, herzliche Grüße und ein gutes 2015! Eure Lucia

Thank you for stopping by, warm greetings and a good 2015! Lucia