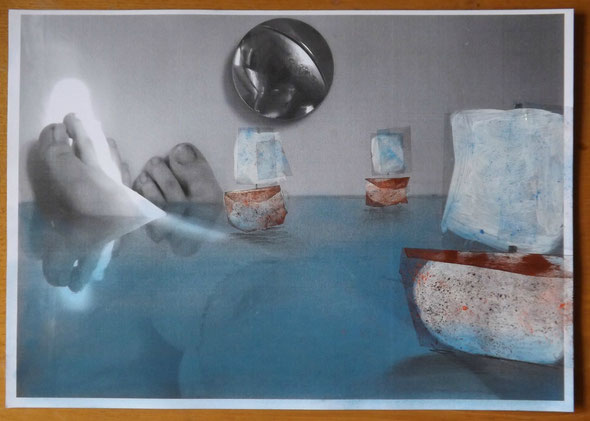 ---
This is my contribution to this Weekends Drawing Challenge. Thank you, Patrice! Take a look at all the Frida Kahlo - inspired works here.
My Collage was inspired by the Painting from Frida Kahlo "What I Saw in the Water". It was created with the help of techniques that I learn in the wonderful Year of the Spark of Carla Sonheim and Lynn Whipple.
To Everyone: Thank you for stopping by. Have  nice Days of Pentecost full of Creator Spiritus.
Das ist mein Beitrag zur aktuellen Drawing Challenge. Vielen Dank, Patrice. Besucht all die anderen Arbeiten, die zum Thema Frida Kahlo entstanden sind.
Meine Collage wurde von diesem Bild von Frida Kahlo inspiriert. Entstanden ist es  mit Hilfe von Techniken, die ich im wunderbaren Year of the Spark von Carla Sonheim und Lynn Whipple lerne.
Danke fürs Vorbeischauen. Ich wünsche Euch wunderbare Pfingsttage.  Ich mag Pfingsten immer sehr - eine Feier des schöpferischen Geistes. 
---